Pre-Delivery Inspection often referred to as a PDI is an inspection that would be performed on a newly built Home or Condo. These inspections are meant for the buyers to have their first look at what their home will look like when finished and identify and cosmetic or material issues. It should be remembered that this inspection is NOT a warranty inspection and therefore anything that is listed in the PDI form is not required to be fixed by the builder. The PDI inspection usually has a maximum amount of time that can spent at the property, since the house is still in the name of the builder you can be told to leave once your time is up. This is why we typically recommend against hiring an inspector for a pre-delivery inspection as there is a big time constraint for the inspection that typically takes us several hours(up-to 6-7 hours dependent on the home).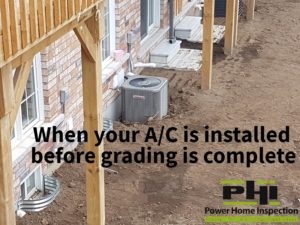 If you have a PDI scheduled we advise you to go alone and bring a roll of painters tape to mark any defects accordingly. The sole purpose of the inspection is to document cosmetic defects and make sure the house is in livable condition prior to you (the buyer) taking possession. After taking possession we highly recommend hiring us to perform your 30 day warranty inspection. Further information regarding such inspection can be found here: New Home Inspections
There are thousands of homes being built every year in Toronto, Etobicoke, Vaughan, Brampton and surrounding areas. Builders are pumping out houses as fast as they can so they can make as much money as possible. That is why it is especially critical to have a home inspector inspect your home as no one knows it better. At Power Home Inspection we have performed 100's of New Home Inspections and make the process as easy as possible for you.
Find out more by clicking here or contacting us to schedule your PDI or New Home Inspection:
Address: 
36 Park Lawn Road, Etobicoke M8V 0E5